Frank Lalor
Special Projects and Requests
Frank Lalor is one of 10 or 12 individuals who started meeting in October, 1995. Together, this group sought to alleviate hunger in our community while also reducing the environmental impact of food waste. Frank speaks of its inception as "merely a good idea whose time had come."  
In December 1994, Frank was watching CSPAN coverage on hunger in America and this burgeoning idea of "food rescue". Upon seeing testimony from the founder of Minneapolis food rescue efforts, he was inspired to see what could be done right here in Johnson County. So in 1996, the group of local change-makers founded Table to Table and rescued 55,000 pounds of food for the hungry. Today, Frank continues to work with Table to Table in our daily mission to build connections between abundance and hunger in Johnson County. In fact, he helped ensure that we rescued food 365 days in 2017!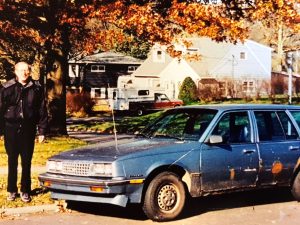 As Special Projects and Requests Coordinator, Frank handles unexpected and last minute donations from cafeterias at the university and local hospitals. He facilitates donations to Free Lunch Program volunteer groups, taking their requests and ensuring they get what they need to serve meals to 125 or more hungry people a day. In a single year, he distributes more than 61,000 pounds of food to local programs. 
Frank has inexhaustible passion for the Table to Table mission and provides support and encouragement to both staff and our many volunteers. After a particularly cold or sweltering shift of food rescuing, Frank will be there to greet you with a smile, a kind, encouraging word and an inducement to "see you next time!" as he sends you on your way.
Frank and his wife Jeannette have 5 children. When not out rescuing food, Frank enjoys watching the Hawkeyes, spending time with his wife and walking their dog McGee. Stop by Table to Table to hear Frank's stories of the founding of Table to Table or give him a call at 319-337-3400.
Watch the testimony that inspired Frank and more than 20 years of food rescue!
Emily Meister
Food Rescue Program Manager
Emily joined Table to Table in 2015 as a route volunteer. In short order, we snatched her up to be part of staff. As Food Rescue Program Manager, Emily manages the day to day operations of our food rescue efforts. With Emily at the helm of route logistics and donor/client relations, we've increased our routes 25% and rescued 300,000 more pounds of food a year.  You may not know it, but Emily has a few key superpowers that make her perfect for her role at T2T.
With her compassionate manner and infectious smile, she makes everyone feel comfortable and welcome, which is especially important since she works directly with more than 100 volunteers each week who are the heart of the Table to Table mission.
Emily is also extremely organized. With her background in both science and fine arts, she is uniquely able to consider the logistics of our food rescue operations. Scheduling more than 700 pick-ups and deliveries each month and managing the route schedules for more than 100 weekly volunteers is as much art as science.
She also parlays this skill set into what her friends and family have termed a "refrigerator magic". Never doubt the amount of stuff she can fit into a refrigerator. With Emily on task, a refrigerator is never out of space.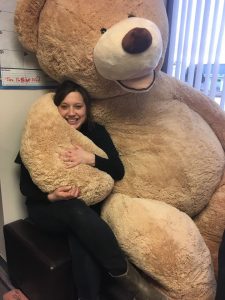 A few of her proudest moments at Table to Table include learning all of the volunteers' names (we have a lot so that's impressive) and helping to form a partnership with Frontier Natural Products to lease what we call the "big truck" that aids in picking up large scale donations. Her favorite parts of her everyday work include interacting with our dedicated volunteers and helping people get better access to healthy, wholesome food. Her predecessor and mentor, David Wellendorf says,
"I know from working with Emily she cares dearly about the environment and not wasting anything."
In fact, she describes this commitment as also one of her biggest challenges.
"It is hard to say no…when we don't have the capacity to take on a donation or a client I have a really hard time if I know there is food to be rescued and people to help, and we simply can't do it because we are already maxed out."
What inspires Emily the most is also what inspires us about her.
"Humanity – witnessing kindness in unexpected places, triumph against adversity".
Regardless of the day or what else she has going on, Emily's kindness to others is unmatched. She is always there working hard, stepping up when the organization needs her most, and doing it all with a smile on her face and joy in her heart.
Emily even lives her commitment to ending food waste at home, which she shares with sons Lucian and Julian. About trying new foods,  Lucian happily declares, "even if I don't like it, I'm gonna eat it cuz I don't want to waste it". The boys also join her at T2T on occasion to help with food rescue. Together, they love to camp, travel, and help husband/dad Nick with his public murals.  
Want to talk to Emily more about the food rescue operation at Table to Table?  Shoot Emily an email anytime or call 319-337-3400.
Nicki Ross
Executive Director
Nicki joined Table to Table as Executive Director in 2017. Nicki's dedicated career in non-profits has focused on bettering the lives of those most in need; children, immigrants, refugees, and  homeless individuals. An expert in nonprofit operations, development, and digital marketing strategy, Nicki knows how to build a brand and engage communities in a shared mission. Previously a senior strategist at a local tech company, Nicki worked with hospitals around the country to use digital marketing to help health consumers find care. She spent several years in leadership at nonprofits and public institutions, serving as development and communications manager at the Catherine McAuley Center, program director of the Boys and Girls Club, and Women's Center director at UW-Parkside. Of her previous experience she says,
"I've always been involved in helping folks secure a healthy meal, even if we were providing adjacent services unrelated to food insecurity. Solving hunger is universal in addressing all other social challenges."
As the executive director at Table to Table, Nicki ensures we are making the most of the volunteer and financial resources our community has invested to rescue food and feed those in need. With 10+ years' experience in organizational leadership, she is an expert in nonprofit operations and development, working diligently to build mission capacity by engaging with volunteers, partner organizations and donors. She is excited to be helping Table to Table deliver on its mission.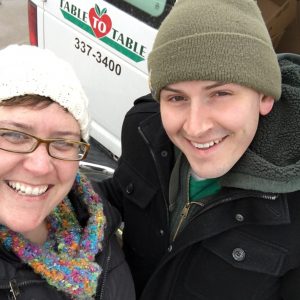 "I'm so thrilled to get to be a part of the great work Table to Table has been doing for more than 20 years. At Table to Table, everyone pitches in. Which means that I have the opportunity to do everything from community awareness and coalition building to rescuing food with our volunteers and delivering it to one of our partners."
Nicki holds bachelor's degrees in organizational studies and gender studies from the University of Wisconsin – Parkside and is completing her master's degree in public administration at Drake University. When she's not finding new ways to reduce food insecurity at Table to Table, you can find Nicki volunteering to raise awareness for homelessness, immigrants rights, and literacy, or spending time with family; a parrot Larry, dog Mooey, cat Huxley and human husband Nate and son Henry.
Want to know more? You can meet Nicki at one of several upcoming events or contact her directly by email or by phone (319) 337-3400.
Katie Steingrabe
Volunteer & Outreach Coordinator
While a student at the University of Iowa, Katie did a research project on food waste and became a dedicated food rescue route volunteer in 2016. After graduating with a degree in Communications and Rhetoric, she joined Table to Table as Volunteer and Outreach Coordinator in 2017. During her interview, she said it was her dream job to work in food rescue and her commitment to our mission proves this every day. Katie's love for food rescue is infectious. She has inspired volunteers to continue volunteering beyond their short initial commitment and engages people of all ages in learning about the important issues of food waste and hunger.  
Katie's previous experience as a festival coordinator and food service manager has served her well here at T2T. Working with a variety of personalities under high stress conditions certainly comes in handy when she's trying to match volunteers for unfilled routes on short notice or dealing with unexpected last minute donations and food requests. She also has a willingness and aptitude for jumping in wherever she's needed whether on a route, planning an event, or speaking on short notice to large and small groups.
Of her experience so far, Katie says,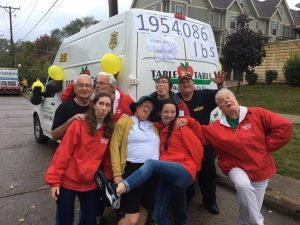 " One of my proudest moments and favorite projects was helping organize our participation in the Homecoming Parade. I knew it was going to be a long day and then it ended up raining and I was kind of dragging, but as soon as we got there and everyone got together my spirits were immediately lifted. All of our volunteers were having a great time hanging out and decorating the van. People were dancing and joking around. While we were walking in the parade we kept hearing so many cheers. It was amazing to see how many people in the community not only recognized us, but were also so happy to see us and praise us for what we are doing. It's incredible to be a part of an organization doing such good."  
When not sharing her commitment to ending food waste, Katie loves traveling, exploring and going out on the town with friends. And despite the fact that she was born with 4 fewer teeth than the average person, Katie still manages to enjoy herself at her favorite taco stand, Tasty Tacos in Des Moines.
Want to volunteer or have Table to Table present to your group about food waste or hunger? Email Katie or give her a call at 319-337-3400