Tomatoes doing
too
well this summer? Got more zucchini than you can handle? Help reduce food waste and feed our community by donating your extra garden produce to Table to Table!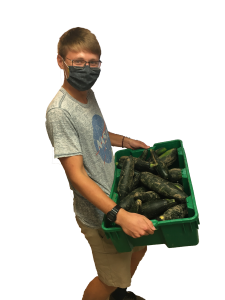 What is the Garden Recovery Program?
Connecting wholesome, nutritious food with our community is what we do. Our new Garden Recovery Program not only helps find a home for extra garden produce, but it also provides our neighbors with nutrient-dense food options. We are encouraging local gardeners to either drop off their excess produce at Table to Table or to arrange for a home garden pick up through the new Fresh Food Connect (FFC) app.
Who can donate?
Any local gardeners can donate their extra produce! If you live in one of our participating FFC ZIP codes (check our Fresh Food Connect information) and have produce to donate, you are eligible for a pick-up. If you do not live in one of our participating ZIP codes, please reach out and we will do our best to either arrange a home garden pick-up or to schedule a time for a produce drop-off. Our office is open from 8:00 AM – 2:00 PM Monday-Friday (excluding holidays) for regular drop-off donations. We are located at 840 S. Capitol Street in Iowa City.
How do I donate produce?
Whether you are getting your produce picked up by a T2T courier volunteer or dropping it off at our office, all produce should be collected using standard food safety protocols and stored in a food safe container in a food safe environment as outlined in our Food Safety Guidelines.
I don't have a garden. Can I still help?
Of course! As we develop our Garden Recovery Program, we will need volunteers' help to collect harvested and packaged produce donations from gardeners' houses to bring back to T2T. We plan on beginning regular courier volunteer shifts the week of August 10, 2020. See below for information on how to sign up.
Get involved
For more information about the Garden Recovery Program or to get started as a courier volunteer, please contact our Garden Recovery Coordinator at gardendonation@table2table.org or call 319-337-3400.