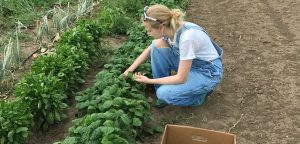 What is gleaning?
As much as 10 percent of food grown in the U.S. is left in the field due to grocery store visual standards or lack of consumer demand. This leaves the product without a market and the labor costs to harvest and distribute these crops may be insufficient for the return. At the same time, more than 12,000 Johnson County residents do not have enough money to cover their basic food needs. Gleaning programs offer a creative solution. Volunteers harvest leftover produce that's perfectly good to eat and donate it to local hunger relief organizations. With volunteer support, farmers don't incur labor costs and can receive a tax credit for donating crops that would otherwise go to waste.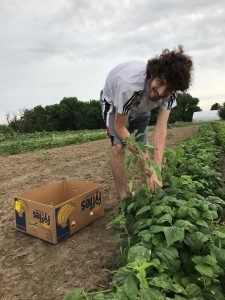 What impact does gleaning make?
Those who don't have adequate access to food have even less access to nutritious fresh foods. Fresh, local produce is often cost-prohibitive for impoverished families and a cost burden to hunger relief agencies serving them. Food recovery programs have proven to effectively address food insecurity and resulting health outcomes. Beneficiaries of fresh food recovery programs have reported increased fruit and vegetable consumption, healthier overall diets, and decreased stress levels. This program will address the emergency food needs of Johnson County residents and provide them access to additional nutritious food resources.
Join the glean team!
Join us as a gleaning volunteer or farm partner. Send us an email or call us at 319-337-3400.