Suggested Donation
$5 for one chance | $20 for five chances



Table to Table will print your ticket and put it in the raffle drum at the T2T offices. 
Need not donate to enter, email info@table2table.org to enter the raffle without a donation.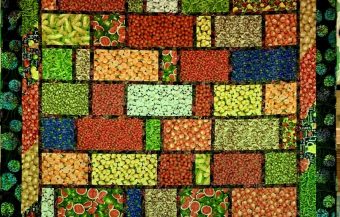 Enter our raffle to win a veggie-themed quilt! Long-time T2T supporters John Ross and Jere Murray were inspired by Table to Table's produce abundance.
John & Jere have been together for 39 years, but only started quilting together at the beginning of the pandemic two year ago. Since then they have made and given away many quilts to friends and family. When the opportunity to create a quilt for Table to Table arose, they jumped at the chance.
At Heritage Design Quilt Store in Amana, they found the pattern and much of the fabric they needed. But it took scouring the internet to find vibrant, food-oriented fabrics to use for the quilt top, reflecting the vibrant, food-oriented organization of Table to Table.
The actual quilt stitching is also in a food-oriented pattern, called leaves and berries. The long-arm quilting of the finished product was generously donated by Sandra Sue Mossman of Sandy's Stitches in Marengo, IA. Quilt measures 96″x85″ and would fit a platform queen or double/full bed (or adds extra coziness to a couch or armchair!)
Raffle ticket sales close in Fall 2022 at the close of our 25th Anniversary Year. Winner will be announced then.