Allison Gnade's first year as T2T's food rescue Program & Services Manager
Allison Gnade has experienced many sectors of our community's complex food system. She's worked in grocery stores, on farms, and in a restaurant, dabbled in catering, and was once a long-time vendor at the Iowa City Farmers' Market. (You may remember her sweet and savory tarts!) She's a gifted writer and worked for eight years as editor of New Pioneer Food Co-op's magazine and food blog, allowing her to visit farms and interview food producers throughout Iowa and see firsthand how, as she put it, "Growing food for humans in Iowa is such a challenging vocation, in spite of our fertile natural resources."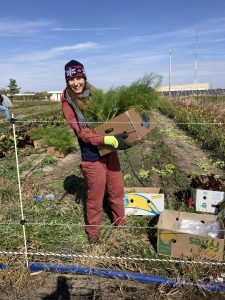 These experiences and more led her to her current role as T2T's Program & Services Manager – as she describes it, in her enthusiasm about the role: "an actual job saving food from going to waste, reducing the entire food system's environmental footprint, by getting it to people who need it at no cost, thereby moving the needle just a little, even if just a little, towards less inequality? Sign me up." 
Her role at Table to Table is multifaceted. She maintains and improves our food rescue operations and builds relationships with partners to learn how we can best meet the needs of our neighbors. All of this ultimately strengthens the hunger relief network in Johnson County, which is no small feat, but she's up to the challenge: "I don't think I could find an organization more aligned with my personal motivations and values!"
Now, one year into the role, she's helping T2T make concrete steps toward these goals. She has improved our AmeriCorps member onboarding and training process and led four AmeriCorps members in their work on access and equity, gleaning, free produce stands, and local food recovery last year. She led staff and AmeriCorps members through developing an Access and Equity training curriculum that partners will be able to use to train their own staff and volunteers on a variety of topics. She's revised T2T standard operating procedures and helped recruit, hire, and onboard a team of seven staff & AmeriCorps in the past year.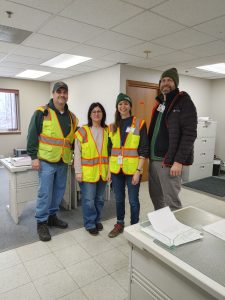 Allison has also led an analysis of food donor contributions and relationship opportunities, with a vision for growth of these critical relationships. Now, she and the team are envisioning a donor and partner appreciation program that we're excited to continue to implement in the coming years, and working to increase culturally appropriate and high-nutrition foods that are highly sought-after by partners. She's also joined community conversations, including representing T2T on the Local Homeless Coordinating Board and exchanging ideas and support with the national Food Rescue Alliance, helping our operations align with our community's needs and learning how changes in policy affect our constituents and our work.
When we asked her what drew her to T2T's mission, she surprised us by sharing that this mission alignment began wayyyy back… all the way back to elementary school. She remembers, with a laugh: "When I was in second or third grade, I wrote a book called The Map to Food Land. It was about a group of starving animals that decided to work together to find a mythical map. This project involved the cooperation of a variety of mostly-unrelated animals clapping their paws together five times, doing a handstand under particular circumstances 'in the city,' which magically deposited said map in a garbage can, and led them to a grocery store to live in. [The End.] Some interests don't change over time."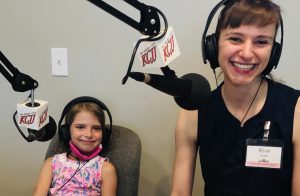 As we ask all new T2T staff members, we needed to know Allison's favorite food memory, and she couldn't stop at just one. As a child, she fondly remembers: "Sitting on the porch swing eating peaches off our tree after riding the school bus home, peach juice dripping from my elbows." In her college days, she remembers avoiding her homework by: "Finally mastering how to make caramel sauce, after the umpteenth try. Pro tip: don't stir it!" More recently, favorite food memories include her young daughter: "Remembering and requesting – by very specific recipe – the birthday treats (which were more like projects) I made her in preceding years," including a spiraled cake with luxuriant black currant icing, and lemon cupcakes studded with raspberries, topped with fluffy lemon curd frosting. Yum!
Allison conveys her passion for reducing food waste into her role at T2T with thoughtfulness and contagious enthusiasm. We're very glad to have Allison, with her dedication and passion for food, food systems, and equity, on our team.