You can make more than just alphabet soup from these commonly wasted ingredients!
By: Emily Meister,  Former T2T Food Rescue Program Manager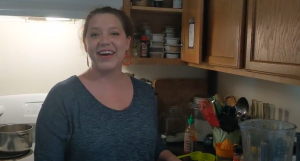 I've just been waiting for someone to ask me for my food rescue recommendations. Now that I've gotten started, it's hard to stop! Here, I've compiled a list of many of the ingredients I rescue regularly and keep in my freezer. 
Flash freezing is the secret to much of my food waste management. You'll want to do this especially if it's something you don't want to use all at once or you don't want it freezing in a big clump. Just lay the food out, unwrapped, on a cookie sheet. Put it into the freezer for a short time—twenty minutes or so—until it hardens. Once it's frozen solid, you can store it in a bag or a container, and individual pieces will stay mostly separated.  You can then just pull out whatever amount you need. 
Apples I don't know about you, but I find half-eaten apples around my house regularly – apples the kiddos took a few bites of and left. I even rescue these half-eaten fruits. I rinse them, cut off the bitey parts, and cube up for a snack or put in the freezer to add to smoothies. You can do this with slightly mushy yet uneaten apples, too. You don't have to take a bite of it first, I guess. 
Bananas: We all know frozen brown bananas make great banana bread, but how many people keep tossing brown banana after brown banana into the freezer for this purpose and never make that much banana bread?  
Bananas are also great in smoothies!  Just plop the whole frozen banana in the freezer when it's past its prime (I have a section of my freezer dedicated to this). Blend it up with fresh or frozen yogurt, a little honey, and any other frozen fruit or veggies you like – either store-bought or fruits and veggies you've saved in the freezer. 
Mushy bananas that are not great for snacking are great blended into a homemade banana oat pancake mix. Super simple, delicious, and nutritious.  
T2T Tip: When you're ready to peel your frozen bananas, put them in a bowl of really hot water for 30 seconds and the peel will slip right off.  
Cauliflower that's turning brown is great chopped up in curries. You can also mash or rice it, then freeze it for a ready-to-go side dish anytime. 
Bell Peppers – A versatile veggie that freezes well! Chop and freeze for soups, stir-fry, curries, or tacos.
Broccoli stems make an excellent addition to a slaw. Throw them in your ramen, on top of a baked potato, even on pizza! 
Canned almost anything: There are many times a recipe calls for only part of a can. You can store and freeze almost anything by putting the remainder into small containers.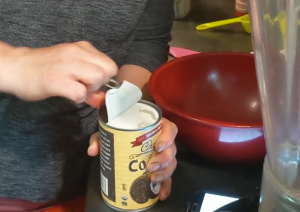 Coconut Milk is a good example of a canned item I freeze often. You can use an ice cube tray and then store in a bag or container.  Add a cube or two to your stir-fry right at the end for a richer flavor. 
Cherry Tomatoes: Even cherry tomatoes can make a quick sauce if you have too many. Rinse, dump in a pan and mash slightly.  Cook down for 15-20 minutes, season, and then blend, and freeze.  I do this when my cherry tomatoes have gone wrinkly, but are not rotted.  The active time cooking is under 5 minutes, so even if there's only enough for a small amount, you can take out a few frozen containers when you're ready to put it into a meal. 
Green Chilis or Chipotle in Adobo: Mostly, I think my family is a bunch of weenies when it comes to spicy food. Personally, I'd just add the whole can to any dish, but if that's too spicy for you or your family, just use what you need and put the rest in the freezer. They'll last quite a while.
Pumpkin: When you add a small amount – ½ cup or so – of canned pumpkin to soups or stews, the pumpkin flavor won't take over but adds a nice creamy texture and deep flavor. Whenever I open a can of pumpkin but don't use it all, I pop the rest in the freezer and add to dishes as needed.  Pumpkin pancakes are another great use for canned pumpkin! I always make lots of extra mini pancakes and freeze them.  Pull a few out of the freezer, cook them in the oven for a couple minutes and add jam for a quick and tasty breakfast.
Rhubarb: when it's ready to harvest, you get a lot! Good news is that it's fairly easy to preserve.  Cook down with a tablespoon of water, a pinch of salt, and sugar to taste. It makes a yummy sauce for ice cream or yogurt.  You can also mix with other fruits like the soggy strawberries below. 
Soggy Strawberries can make some recipes better. Cut them roughly and cook them down into a quick sauce topping. It only takes a couple of minutes on the stove. The overripe fruit is perfect because it will be very sweet and the sauce won't require any added sugar. 
Rinse, flash freeze, add to your stock of smoothie ingredients in your freezer. 
Stir strawberries, soggy or not,  into plain yogurt. (This way you can buy a large tub of plain yogurt and flavor it any way you like. Crushing up a bit of the lemon biscotti from Paglias would make a tasty topping too!)
Also, a good topping for ice cream or thicken it up a bit by cooking longer and you have a simple homemade jam.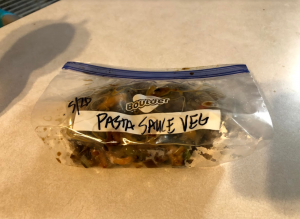 Tomatoes: you can freeze the whole tomato, no prep, if you're really in a hurry.  Really, just place the whole thing in there and when you're ready to use it, thaw slightly and the skin will come off easily.  Then it's ready for soups or marinara.
Tomato Paste – I like to freeze this flat in a bag or on a cookie sheet. Then just break off however much you need.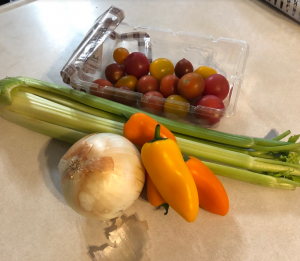 Veg Heavy Tomato/Pasta Sauce – I like to make a big batch of pasta sauce with LOTS of veggies to freeze.  It's a good way to utilize lots of tomatoes and other veg in your fridge. Chop up onions, red, yellow, or orange bell peppers (if I use green, I use only a small amount because the flavor can take over), celery, carrots, zucchini, and even a few stray mushrooms.  Simmer and cook down until all veggies are tender then blend until smooth in a food processor or blender.  For seasonings, I add basil, oregano, parsley, garlic, and salt and pepper.  A really small pinch of cinnamon adds a warm flavor to the sauce.  Depending on how sweet and flavorful the tomatoes that you use are, you can also add a little sugar or honey as needed. 
Wrinkly Grapes: When the grapes get sad and wrinkly, they get neglected in the fridge.  Rinse and place in a bag or container in the freezer. They make a great cold, refreshing snack and it doesn't matter if they were wrinkly or soft once they're frozen. Also, a good smoothie ingredient!
Yogurt: You should freeze some yogurt, rescued or not! Put into individual containers in the freezer to use later in smoothies. If it's a large container, spread on a cookie sheet, freeze, then break up and store the chunks in a plastic bag.
Zucchini are the end of summer excess no one knows what to do with. You can only eat so much zucchini bread. I don't find that zucchini freezes well whole, but if you chop and even partially cook then freeze, you can blend into vegetable soup or cube for a creamy addition to any fruit smoothie!