Finding ways to increase access to fresh produce has been a part of the operation since the early days. In 2001, AmeriCorps service member Rosemary Randolph started nine gardens in multiple Iowa City neighborhoods. These gardens grew 2,000 pounds of produce during the growing season.
In recent years, T2T has partnered with local farmers to harvest produce remaining in their fields – referred to as "gleaning." "I knew that would be a really good fit for me—working outdoors to rescue food with a great group of people," says Karen Jackson, T2T volunteer.
Gardeners are also encouraged to donate their excess homegrown fruits and vegetables to T2T or even "grow a row" to donate.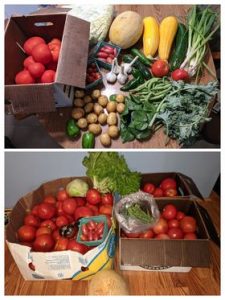 With increased fresh produce from gleaning and garden donations, T2T organizes neighborhood Free Produce Stands in partnership with local pantries and neighborhood centers, reducing barriers to fresh produce access. "We can harvest hundreds of pounds in a day and then distribute it for people to have fresh food on their tables that night," Karen says.
Last summer, a recipient sent us a note that read, "I just wanted to let you know those tomatoes made 149 cups of blanched chunks to make lots of soup and sauces for lasagnas and spaghetti for the 18 people we share homemade food with."