What drew Lynette Richards to Table to Table? "The fact that food can be on people's plates that same day." Lynette volunteered rescuing food in the late 1990s and served on T2T's Board of Directors until she moved away from Iowa City in the early 2000s. "It was one of the hardest things to leave behind," she says.
Lynette's Honda Passport was her food rescue mobile: "I'd fill it up, I'd give away all the food, then I'd finish picking up more food. Sometimes I would come back with nearly a ton in total."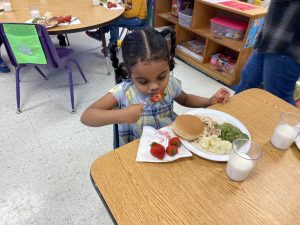 "I would go to Eagles Grocery, Blooming Prairie, Bruegger's Bagels, New Pioneer Food Co-op, sometimes Hy-Vee, and sometimes the University food service. We would drop food off at United Action for Youth, Domestic Violence Intervention Program, preschool programs, and homeless shelters," she remembers. T2T didn't have any refrigerated storage at the time, so, "We had to find a place to deliver what we collected that day. We couldn't bring anything back." To this day we only have the equivalent of six household refrigerators of cold storage because we aim to get the food out as quickly as possible.
"At T2T you get food from a variety of places, so when you put it together, you can make a healthy meal. It's very usable," Lynette continues. "You get excited when you get one food donation because it goes with something else you got, and it will make a nice meal for somebody."