For the past several summers, Table to Table has hosted volunteers from the Mandela Washington Fellowship, a program of the Young African Leaders Initiative providing outstanding young leaders from Sub-Saharan Africa opportunities for professional development at US universities. Jean Pierre Sibomana was one such Fellow who volunteered with Table to Table during his visit to the University of Iowa. He was so inspired by what he learned about food rescue and distribution, he decided to bring the idea to his own community.
At home in Rwanda, Jean Pierre serves at an NGO called Self-Advocacy Initiatives for People with Disabilities (S.A.I.D.), which he founded in 2014. The organization serves and supports vulnerable children with disabilities from low-income families. "These families are stigmatized and isolated because of having children born with disabilities, and our goal is to help to reduce these cultural practices and empower these families, financially and economically, to advocate for themselves," Jean Pierre says. "We are aware that when a family is empowered, they can…give educational rights to their children with disabilities."
Families that S.A.I.D. serves are lacking basic health support, proper food, and treatment for their health conditions. Jean Pierre has taken what he learned at Table to Table and developed a program called Smile Plate Project, which will help "families with children who have severe disabilities and other groups of people that are lacking basic needs, including food and house materials that are essential," he says. The Smile Plate Project will work closely with local grocery stores and other partners, and hopes to start by providing food and other household items, especially relating to children's needs. Smile Plate will be focusing on remote areas of a low resources community, and volunteers from S.A.I.D. will collect and distribute food to these people "in the collaboration of caring people who really understand the issue," Jean Pierre says.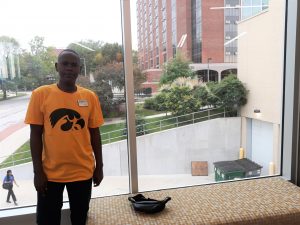 The Smile Plate Project will "help to show love to those who have been isolated and lost hope of the future resulting from their disabilities," he adds. "[It will] help to empower and share the culture of sharing." 
Spending time in Iowa during his time in the Mandela Washington Fellowship program, Jean Pierre says, empowered him "to think deeply and expand my community involvement in supporting vulnerable groups of people born with mental disabilities and other groups of people that are left behind in the community." He was fascinated with the programs he witnessed in Iowa that target vulnerable populations in the community, including Table to Table.
"We will always work as volunteers until our community mindset changes," Jean Pierre says, "[until] all children hidden in houses are known and given their rights and free education, food, clothing, and medication…[until these families] will no longer be ashamed and be empowered economically and financially."