If you're having a conversation with Vicki Jaeger, you never know what you may end up talking about. We count on her to share intriguing facts, TV shows to watch, and fun stories when she comes in to volunteer. We also know we can count on her to carry out her regular Saturday morning food rescue route with mastery and dedication. (She shares a little bit of her advice for rescuing food below!)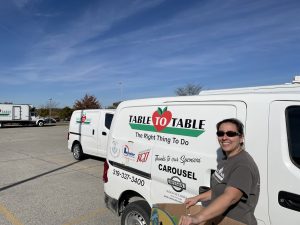 Vicki is in her sixth year volunteering at Table to Table; she started volunteering with us when she was looking for a way to get involved in our community and her Google search results suggested T2T.  She's been here week after week rescuing thousands of pounds of food ever since.  
During the first year of the pandemic, we asked Saturday morning volunteers to take on each of their food rescue routes solo and without T2T staff onsite in order to accommodate resource demands due to the virus. Vicki, along with other regular Saturday morning volunteers, wasn't deterred. The mighty band of Saturday volunteers carried on with their routes solo and took care of prepping their vans for Monday's routes, too. 
In addition to her food rescue route, Vicki serves on our Resource Development Committee and has a real knack for organizing and analyzing data – she's an Excel wizard! We are very thankful for Vicki's continued commitment to our mission and her excitement in engaging with our community.
Are you a new T2T volunteer? Vicki's got some advice!
What is one thing you would tell new T2T volunteers when they're first starting out?
Packing a box [of food] is like playing Tetris. Also, try to put "like" items with "like."
What do you wish other people knew about Table to Table, food insecurity, and/or food waste?
"Best by" dates are not expiration dates.  Food doesn't magically go bad as of that date.

 [Read more about "best by" dates here.]
Just because food isn't pretty (bruised produce), doesn't mean it's not good.  [Read about food waste 101 here.]
Food insecurity, especially for children, is a lot more prevalent than we like to think. [In Johnson County, childhood food insecurity affects 1 in 5 kids.]
Fun Facts about Vicki
What are your hobbies?
Reading, movies and TV, and traveling to the 50 states with my sister
If you could travel anywhere in the world, where would you want to go?
Ireland and the United Kingdom
What is your favorite flavor of ice cream?
Can't go wrong with chocolate ice cream.