Mary Palmberg is someone you might call a "local legend." Many people in our community have the privilege of knowing Mary, with her energy and enthusiasm to tackle any goal and to, as she puts it, "make the most of her days." She has worked in the University of Iowa's Provost Office, has hosted the Helpers Email list connecting 250 volunteers with community needs, and was the Director and Volunteer Coordinator for the Free Lunch Program until 2014, helping secure its current space in the 1105 Project. She's also been a volunteer at Table to Table since 1998, making her one of our longest-serving volunteers.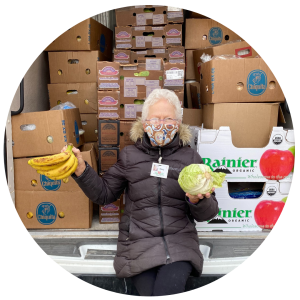 Mary's service with T2T is remarkable for many reasons. Here are a few: 
She can rescue any amount of food: a few weeks ago she and her volunteer partner rescued 1900 lbs. of food on one route alone! 

We have yet to discover her limit on how many volunteer shifts she can fill in a week: so far this year, she's clocked more than 100 shifts on food rescue routes, prepping vehicles in the shop, picking up food at the Iowa City Farmers' Market, and distributing veggies at produce pop-ups. 

She is the ultimate food rescue ambassador. She builds great relationships with food donors, increasing their donations and commitment to the mission. She makes T2T deliveries memorable for recipient agencies and their volunteers by delivering food with the best attitude and expressing sincere and heartfelt gratitude for their partnership and work. And she not only volunteers herself, but she brings along countless new volunteers. She uses every opportunity to promote and garner support for the mission. She truly couldn't do more to be a better ambassador. 
Mary has kept Table to Table moving forward all these 23 years she's been involved, certainly not least of all this last year with all of its changes and unpredictability. Her knowledge and experience in hunger relief efforts combined with her passion for serving our neighbors makes her irreplaceable at Table to Table. Mary is a true example of the impact one person can have on changing a community for the better. 
Get to know Mary
How long have you been volunteering with Table to Table?  "Since the day I retired from the University of Iowa: February 13, 1998 (and maybe even before that)."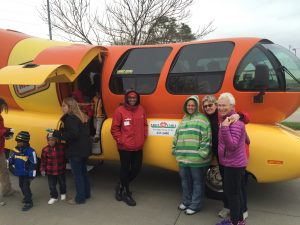 What's one of your favorite memories from your time volunteering with Table to Table?  "I have SO MANY favorite memories … but a unique one was doing a route in the Oscar Mayer Wienermobile."
What is one thing you would tell new T2T volunteers when they're first starting out?  "To be very friendly, appreciative, and helpful to the people at [food] donor sites."
What do you wish other people knew about Table to Table, food insecurity, and food waste?  "Table to Table makes staff at [food] donor sites feel very good about their products not going to waste. T2T makes a huge difference in the budgets and food offerings of its recipient partners." [She's right! The food T2T delivers would cost partners hundreds of thousands of dollars to purchase. And T2T-rescued food accounts for 60% of the food most pantries in Johnson County distribute.]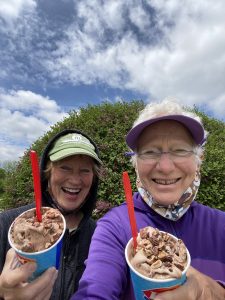 What is one of your favorite food memories?  "Georgia Mud Fudge Blizzards made with chocolate DQ—shared with my T2T partner Nancy Weber after most of our Tuesday morning T2T routes during the Riverside Drive Dairy Queen's season."  
One thing that would surprise someone to learn about me is…  "I biked from ocean-to-ocean across the U.S. twice (in 2000, Virginia to Oregon; and in 2003, California to Florida), and the length of the Mississippi River twice (in 1999 south from St. Paul to New Orleans; and in 2007 from New Orleans to Lake Itasca) on trips with small groups of cyclists."