At the beginning of March, Table to Table experienced a volunteer shortage unlike any we've ever had. As you're probably aware, routes are supported almost entirely by volunteers who serve 2-3 hours each week for more than 50 food rescue deliveries. You may not know that T2T also relied heavily on volunteers for a variety of other important operational tasks including preparing vehicles for routes, maintaining and sanitizing the facility, entering and analyzing food rescue data, tracking our fleet maintenance and billing, and more. Without those volunteers, many of those tasks beyond sanitation and preparing for routes ground to a halt. 
Lucky for us, AmeriCorps members whose roles have been suspended with other projects reached out to us looking for volunteer opportunities. Reading Corps AmeriCorps member, Andrew, and Green Iowa AmeriCorps member, Nick, have joined us nearly full time to support Table to Table operations.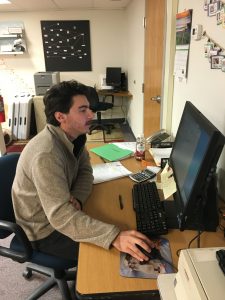 Nick is a logistics coordinator for Green Iowa AmeriCorps Energy & Community program where he conducted residential energy audits in Iowa City. Energy audits help homeowners identify sources of air leakage and energy inefficiencies within their home. Fixing these issues saves money and energy while also increasing the healthiness of a home. Nick graduated from the University of Iowa in 2019 with a BBA in Marketing and a Certificate of Sustainability. 
With a background in sustainability, Nick has been an excellent addition to the team and has taken on daily program coordination tasks in addition to coordinating food rescue data. Tracking this data in a timely and accurate manner helps ensure we know what food is coming in and that each organization is getting what they need. 
In just under a week, it's clear Nick is already dedicated to the T2T mission, 
"I didn't realize how much food Table to Table is able to redistribute to people in need. Being an advocate of sustainability, it makes me happy to see food that would otherwise be thrown away being used for its purpose, eating."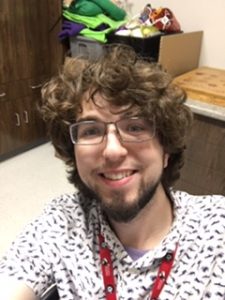 Andrew is part of the AmeriCorps ReadingCorps team with the Iowa City School District. The ReadingCorps program serves K-3rd grade students who are on the border between at risk and proficient in reading. They utilize several interventions that range from practicing letter sounds to reading one-page stories as "newscasters" to encourage conversational reading and improve overall comprehension skills. Andrew graduated with a BA in English and a certificate in writing from the University of Iowa and its Magid Center in 2019. 
Andrew joined us at the beginning of April to help coordinate our work with the Food with Love project, help with daily program coordination, and to write blog posts and e-news articles about our work during this crisis. 
Andrew has found being a part of the Table to Table team has been awe-inspiring and a jovial atmosphere, 
"I am in awe of the quantity of food that Table to Table is able to rescue and redistribute in Johnson county. I enjoy the camaraderie among the volunteers and staff and the overall positivity that is cultivated through this organization."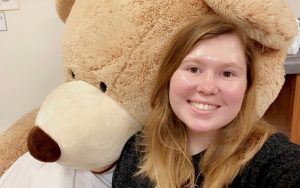 Ellie is currently an AmeriCorps member with Iowa Valley Habitat for Humanity. She is working with Table to Table  during this time as a way to support the vital social services in our community. She's a whiz at data entry and is helping recruit and record new volunteers as well as process financial donations.
Ellie graduated from the University of Iowa in May of 2019 with a BS in Psychology and a minor in Human Relations. 
She is excited to get the chance to work for another non-profit in Iowa City. She says, 
"This community is so supportive and involved, especially during times of crisis."
Yusef is serving in the Energy and Community branch of the Green Iowa AmeriCorps. His job is to be knowledgeable in home science and lead home energy audits/weatherizations. He conducts safety tests and air leak tests to measure how much air leaks into a home before letting homeowners know how leaky their home is, and he recommends air sealing processes.
As an undergrad at the University of Iowa, Yusef recently swapped majors from Biology to Environmental Policy and Planning and plans to go back to school after finishing his year of service with AmeriCorps.
As a recent addition to Table to Table, Yusef's dedication to rescuing food is inspiring, and he illustrates a common awe in his first reactions to our program's operation,
"What I enjoy most is the satisfaction of supporting an organization that does something incredible. The food waste built into our society is immensely off-putting to me, and the fact that it can then go to help people and families who can't afford food while maintaining their dignity puts a smile on my face."