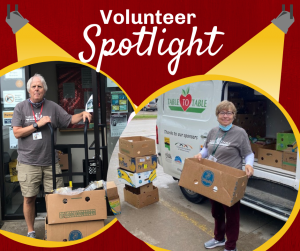 Marcia and Dan began volunteering at Table to Table in January of 2020.  They had recently moved to Iowa City from the Chicago area and were looking for a way to get involved in the community and meet new people.  Upon the recommendation of Marcia's sister-in-law, who had previously volunteered at T2T, they gave us a call.  Since that time they both have helped out in several different ways.  
Marcia and Dan currently go on a weekly food rescue route together.  On top of that, they will pick up another route from time to time when there's a need.  Marcia also serves on the Volunteer Engagement Committee, has lent her expertise for our volunteer training initiatives, and has helped pick up fresh garden produce donations. 
On top of the routes that Dan does with Marcia, he often answers the bell when called to sub on volunteer shifts, which include retail food rescue routes, produce pick-up routes, special distributions, and Saturday routes.  Both Dan and Marcia have helped with fresh food box distributions as well as developing policies based around infection prevention at the beginning of the pandemic.  
We sure are glad that Marcia had that conversation with her sister-in-law!
Get to know Marcia and Dan
Marcia
What is one thing you would tell new Table to Table volunteers when they're first starting out?  I think it is helpful to understand, respect and appreciate all the people that contribute to food rescue for those in need.  Building relationships is helpful during this process.  
What do you wish other people knew about T2T and food insecurity?  Individual actions can really help someone who is in need.
One thing that would surprise someone to learn about me is…
I grew up on a farm in central Iowa with 12 siblings.  I went to a one-room schoolhouse for a couple of years before the school bus would pick us up for town school. Dan and I have lived in Texas, San Francisco Bay Area and a suburb of Chicago before moving to Iowa City.
What is your favorite flavor of ice cream (or favorite dessert)?
Chocoholic from Heyn's
Dan
When asked about what he would share with new T2T volunteers when they're first starting out, Dan emphasized the unique experience of partnering with a variety of other community members. It has been an unusual year working with T2T during the pandemic.  Marcia and I worked with several different [volunteer] partners when we started training.  But when we came back after T2T restarted routes last year, we have only worked together.  It was interesting getting to know some of the other volunteers while sharing a ride in the truck — I miss that.
What are your hobbies?  I am a racquetball player and a bike rider.
One thing that would surprise someone to learn about me is…
I am a three-time state champion in my division in racquetball.
If you could travel anywhere in the world, where would you want to go?
I would like to spend a summer in Europe.