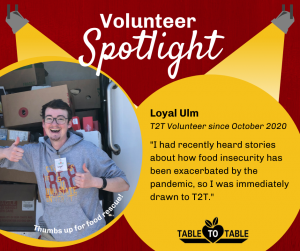 Loyal came to Table to Table because he had heard a report on NPR about how food insecurity was being exacerbated by the pandemic, and he wanted to find a way to jump in and help. Loyal started volunteering here in October of 2020 and has been busy helping out ever since, volunteering twice a week, helping out both in the shop and on food rescue routes.  In fact, on more than one occasion,  Loyal has gotten back from his route and stayed to lend a hand in the shop because he saw that we could use more help.  We are grateful for his time and talent and know that he is having a positive impact on our community.  Thanks Loyal!
Fun Facts about Loyal
What's one of your favorite memories from your time volunteering with Table to Table?  My route partner, Eliza, and I once picked up a bit over 1,700 pounds in one trip! It's definitely not the all-time record, but it sure stood out to me as a great morning.
What is one of your favorite food memories?
I really liked the movie It (Stephen King) when I was a kid, so when I was in the fourth grade, my mom made me a Pennywise birthday cake, complete with the clown nose, fangs, and crazy hair.
What are your hobbies?
When the weather is nice, I enjoy spending my free time geocaching, but if I'm stuck inside, you'll probably find me crocheting.