We've collected 70,000 pounds of food so far in April.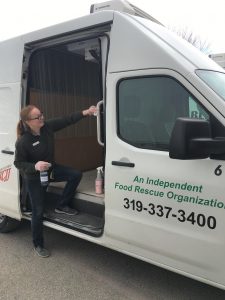 We want to express our gratitude for the incredible community response during this time of need. After restarting our operation on March 26, through the week of April 3 we successfully rescued more than 36,000 pounds of food, and during the week of  April 6 we rescued 34,000 pounds. This is 80% of what we normally rescue in a week, a tremendous accomplishment given that we rescued this food in fewer than half the number of regular food rescue routes. This has been made possible thanks to numerous new volunteer applications and the support of local organizations and businesses.
We've onboarded many new community volunteers. City, County, and local business volunteers have helped see us through the most challenging weeks of food rescue in recent memory.
The City of Iowa City Housing Inspection Department dedicated two staff to routes each weekday.

Johnson County SEATS drivers are on call to fill in on routes if we are unable at the last minute to fill a shift.

Aero Rental and Party Shoppe is keeping four of their staff employed by lending them to us as food rescue and facility volunteers.

Bur Oak Land Trust has loaned two AmeriCorps members each day for food rescue routes until at least the end of April.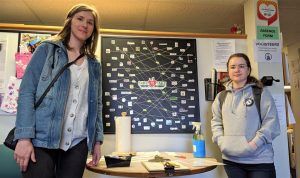 We want to thank all of you for adapting with us as we respond to the ever-changing world crisis right here in our community. Your outreach and support through this time are ensuring Table to Table runs full steam ahead and keeps our neighbors fed.