By Rachel Gentile, Student in the University of Iowa Career Leadership Academy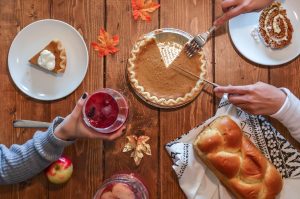 According to The National Resources Defense Council, the average American throws away nearly 200 pounds of food annually. This accounts for 43% of all food waste in America, more than grocery stores and restaurants combined. And as you might expect, household food waste is at an all-time high during the holiday season.
With so many delicious foods to enjoy during the holiday season, how do you decide which dish to cook? It's so hard to choose a favorite dish, so why not make them all — right? This may be our natural response, but it only leaves us with mountains of leftovers that usually get thrown away. 
We've put together a few tips to eliminate, repurpose, and prolong the life of food from the festive holiday season!
Proper portion sizes
Come the holiday season, it is hard to estimate how much everyone is going to eat. However, the website savethefood.com has an interactive "Guest-Imator," which is a handy tool that helps you plan how much food to prepare for Thanksgiving dinner. You simply input how many people you are expecting, how many leftovers you want, and the type of meal (accommodating any food restrictions). The Guest-Imator then generates a recommended portion of meat, vegetables, casseroles, side dishes, and, of course, dessert! This easy online tool helps  take stress out of the holiday season and finalize a menu just for you and your family.
Food storage
We have all experienced the dreaded moment you realize you have forgotten an ingredient for Thanksgiving dinner. Last-minute trips to the grocery store on Thanksgiving Day are nothing short of chaotic! Everyone is bustling through the aisles grabbing the last cans of cranberries and green beans – what a mess!
This is why it is so important to do your holiday shopping early and learn how to store your food properly until the big day. This will help keep you and your food fresh and fun.
Need to learn a few food waste and storage basics? https://table2table.org/dont-throw-it-out-food-waste-101/ 
And learn how long your fridge food actually lasts: https://table2table.org/use-by-best-by-sell-by/ 
We hope these resources save you from having to wait in a checkout line that lasts longer than your anticipated holiday dinner.
Repurposing recipes
While eating a Thanksgiving meal is exciting, multiple leftover dinners can become a bit boring. Let's learn to repurpose and invigorate great side-dishes into a fresh new meal!
Check out our Youtube page for lots of helpful videos where our Food Rescue Program Manager, Emily, takes you through a few of her favorite recipes that help use up those otherwise commonly-wasted ingredients. Read more about her food-saving recipes and tips here: https://table2table.org/10-meals-excess-ingredient/ 
Sources:
https://www.thespruceeats.com/classic-thanksgiving-menu-with-recipes-3061631
https://www.nrdc.org/resources/increasing-public-awareness-about-food-waste-prevention-guide
https://savethefood.com/guestimator/results
https://www.tasteofhome.com/article/how-to-avoid-holiday-food-waste/