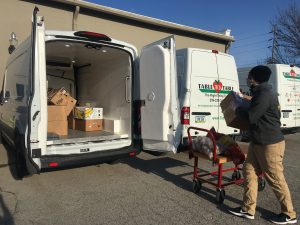 The Iowa City Masonic Foundation really came through for the hunger relief network in our community and the 19,000 people that we fed this year. The IC Masonic Foundation match of $12,500 in donations kept the wheels turning on Table to Table's 2.5 million pound food rescue operation.
In the span of a year, our two oldest food rescue vehicles reached the end of their utility after rescuing several millions of pounds of food during their tenure. Our vehicles are essential to route-based food rescue, daily delivering free food to area hunger relief partners. So, when we lost each vehicle, we used operating funds to purchase a replacement. This match challenge has doubled the impact and enabled us to fully fund the 2019 Ford Transit we've been using since July 2019. This food rescue vehicle has transported over 209,000 pounds of food from donor partners to local hunger relief organizations. Route volunteers have driven it over 5,300 miles on approximately 300 routes so far.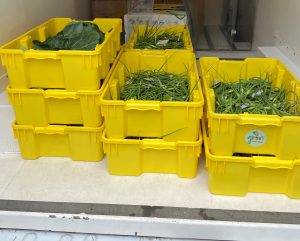 With a team of more than 400 volunteers and our fleet of eight food rescue vehicles, we rescued 2.5 million pounds of food in Johnson County last year. Wholesome food from more than 80 donor organizations was delivered to over 50 recipient hunger relief agencies serving 19,000 Johnson County residents struggling with food insecurity. We certainly couldn't accomplish this feat without our outstanding volunteers and the community's gracious support. Because of your $25,000 investment we will continue this good work with a vehicle that will deliver food for another 15 years.