It's been another unbelievable week for our community, and we hope this note finds you and your family safe and well.
We want to keep you updated about Table to Table's efforts as tough times get tougher. First, I just wanted to take a moment and thank the T2T team for stepping up, EVEN MORE, to go above and beyond our everyday mission. The morning after the storm, with communications still down, we weren't sure what resources we'd have for food rescue. Even with damage to their own homes and their power still out, Table to Table volunteers showed up anyway. By now, this dedication probably doesn't surprise you, but it is uncommon and we won't ever take it for granted. If you know a T2T volunteer or if you see one out on a route, please give them a kind word of appreciation or a socially distanced high-five. They are heroes.
---
Food Loss and Replenishment
In the first days after the storm, T2T deployed resources across Iowa City (and even to Cedar Rapids) to help partners continue serving our neighbors.
After so many hours of power outage the evening of August 10 and beyond, many of our partner grocery stores had to throw away thousands of pounds of food. Because of this, food rescue was light in the first day after the storm. Fortunately, we found other sources of food and other ways to help.
CommUnity Food Bank borrowed the T2T 22-foot refrigerated truck to keep food cold until power came back on. CommUnity Director of External Relations Michelle Cole reports,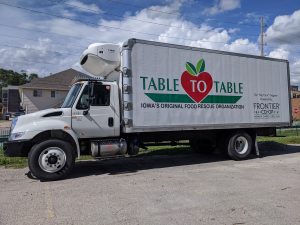 "We have plenty of food in the Food Bank, thanks to the generosity of Table to Table. During the power outage, they lent us their refrigerated truck, and we were able to save the majority of the food from our full cooler and freezer. We are so grateful to them for this act of community." 
Some partners were unable to save their fresh food. As we kept running food rescue routes amidst the chaos, T2T was able to replenish stocks. North Liberty Pantry shared,
"This week (and really every week), we are SO thankful for the wonderfully dedicated staff and volunteers at Table to Table for helping fill our fridge after derecho took out power on Monday. It's been a trying year and we're grateful for all the helpers."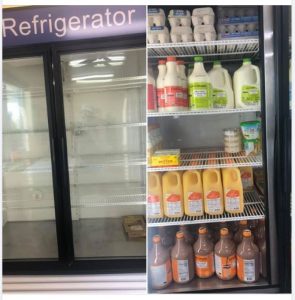 ---

Additional Rescue Opportunities 
While grocers were still out of power, they declined shipments of fresh food from vendors. We were able to recover more than 2,000 pounds of fresh produce from these rejected deliveries.
Juliann, T2T Gleaning Program Coordinator, headed to Cedar Rapids to help farming nonprofit Feed Iowa First get veggies out of their cooler and deliver them to the Coralville Food Pantry.
---
Hot Meals and Parking Lot Pantries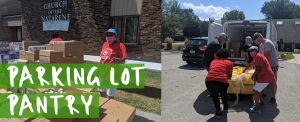 With a downed power line on their building, IC Compassion had no access to their facility or the food/supply resources inside. Wednesday morning, T2T delivered fresh food, refrigerated vehicles, and tables to help them set up shop in their parking lot. We were even able to store perishable food back at T2T headquarters overnight and return the next day. IC Compassion served more than 200 families this week, many of whom had been out of power for days.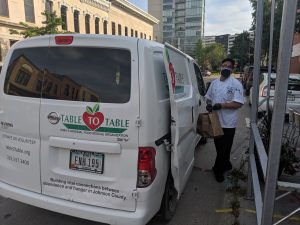 On Wednesday, Elder Services requested assistance getting some emergency meals to a senior living community without power. Thanks to Pullman Bar & Diner, a stand-out in our amazing local restaurant community, T2T delivered 25 HOT meals within a couple hours of the request. This was made possible by the network established through the COVID-response Food With Love Project and the Community Foundation of Johnson County.
---
Continuing Support for Recovery
Gardeners and growers are dropping off produce and fruit recovered after the storm. And we received a call to rescue another couple thousand pounds of chicken, which we will be distributing in the coming weeks.
We also lent T2T vehicles and supplies to Johnson County Supervisor Royceann Porter and North Liberty City Council member RaQuishia Harrington to make relief deliveries to Cedar Rapids the weekend of August 15-16.
Did I mention we only canceled one route through all of this?
I think we'll all be happy to see the backside of 2020, but we are certainly grateful to have the best team and your support to get us through.
In gratitude and solidarity,
Nicki Ross, T2T Executive Director