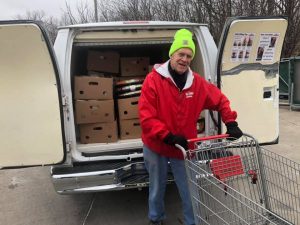 This week, we are remembering longtime T2T route volunteer, former board member, and donor Al Stang. For years, Al did his Wednesday food rescue route in the 1998 Ford Econoline – our oldest van. You had to crawl into it to get the food all the way in the back. It was only about 6 months before he retired from T2T that he mentioned, "You know, maybe it's time to retire this van – it's hard on the knees (well, on my partner's knees, I don't get up in there anymore)." 
Then, in the summer of 2020, we got a call from him asking how we were doing and how we were handling the loss of so many volunteers during the pandemic. He had heard that in the midst of it all that old van finally broke down. He and his wife Sharon supported the purchase of a new vehicle. 
He supported T2T in so many ways: by spreading the word, as a board member, and as a route volunteer – he provided us with a whole collection of T2T rain jackets that still hang in our front hall and are worn by volunteers (and staff) regularly. He was thoughtful and full of ideas and someone you enjoyed spending time with and talking to. 
A memorial service is planned for this Saturday, July 9, 2022 at 1:00 PM at Gloria Dei Lutheran Church in Iowa City.