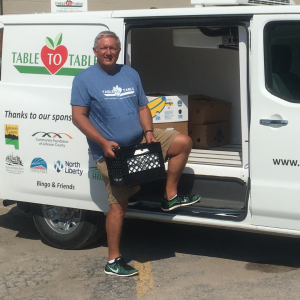 We're celebrating the first work anniversary of our Program Assistant, Steve Noack!  Steve started at Table to Table on June 3, 2021, and hit the ground running.  He quickly jumped in and was an invaluable member of our team before we knew it, bringing with him skills that we didn't even know we would soon need.
Steve was attracted to T2T because he felt that food rescue is a great cause, because of the efficiency of our model (that's engineer speak), and because he had been familiar with T2T for quite a while and admired our mission.  "Rescuing food, reducing the waste of such a valuable resource, addressing food insecurity, and doing all of that with a relatively limited budget utilizing finite resources is really quite impressive and something that I wanted to be a part of," he says (roughly paraphrased, with permission).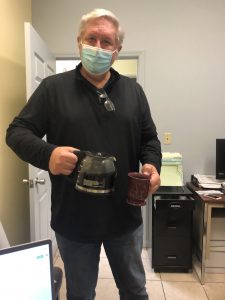 Steve's title is Program Assistant (Official) and In House Iowa State Advocate (Unofficial).  Steve has a degree in Engineering from ISU and an MBA from Saginaw Valley State University (SVSU).  We're not sure what all the criteria were that Steve used to select SVSU, but it does appear as though their mascot is a Cardinal, not all that different from ISU's.
Outside of his engineering expertise, Steve has also volunteered or worked through the years at many area nonprofits, including Iowa City Free Lunch, Shelter House, and Successful Living.  Steve has used these skills to not only help plan and launch food rescue routes, but we also utilized Steve's experience in planning and designing our new space at Pepperwood Plaza. 
We truly have been fortunate to find someone of Steve's ilk to become a member of our team.  If you haven't had the chance yet, please take a moment to say hello and ask him about any number of topics, including but not limited to: the Cyclones, cars, tires (he surprisingly knows quite a bit), fire safety and safe egress, his new grandson, lava lamps, how crypto currency works, and lest we forget, the efficiency of route-based food rescue.
Introduction written by Jared Long, Volunteer Coordinator