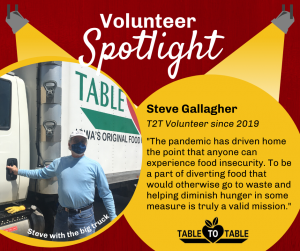 Steve Gallagher doesn't know a stranger. He loves to get to know new people and engage in discussion – as he says himself, one thing people would be surprised to learn about him is that he is in fact "capable of having a brief conversation!" (but we greatly enjoy our long chats with him). He began volunteering with Table to Table two years ago and "never looked back," quickly forming many friendships and becoming an indispensable part of the team. 
Steve spends much of his time helping to lead our Straight Truck Program. We utilize our 26-foot refrigerated straight truck (affectionately referred to as "The Big Truck") to rescue 900,000 pounds of food each year. Steve volunteers as one of our truck drivers, and he is also in charge of training new drivers as well as overseeing routine maintenance. He brings 40 years of experience as a driver for Hawkeye Foodservice/US Foods to his volunteer role.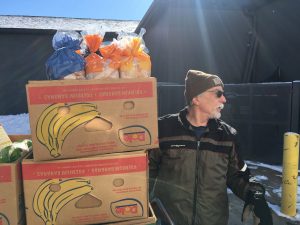 Steve first learned of T2T through another volunteer, Dick Braverman, and was curious to find out more about what we do, so he signed up to volunteer soon after leaving full-time employment. "I think many people might begin volunteering at T2T because they have some time available and would like to give back to the community," Steve says. "What they may or may not realize is just how great the emotional reward can be for doing so. There may be 'warm fuzzies' you might not have expected."
Steve's work is essential in helping T2T rescue tons (literally) of good food each week. "The pandemic has driven home the point that anyone can experience food insecurity. To be a part of diverting food that would otherwise go to waste and helping diminish hunger in some measure is truly a valid mission."
When Steve isn't rescuing food, he's enjoying one of his many hobbies: walking, hiking, bicycle riding, reading, birdwatching, going to live events at regional venues, keeping up with local and global current events, sharing a meal with friends, spending time with his grandchildren in Florida, or playing an "occasional, low-stakes slot machine." Someday he would love to go on a multi-day trip by rail with his spouse. 
One of his favorite food-related memories comes from when he was growing up with his three older siblings. "Our mom would bake us the cake of our choice for our birthday. Mine was always confetti angel food cake with maraschino cherry-flavored buttercream frosting. Yum!" This may be what kicked off his "chronic sweet tooth!"
We are very grateful to have Steve on board as a T2T volunteer and know that our Straight Truck Program is in good hands. If you see Steve around, make sure to tell him "thank you" for bringing his knowledge, enthusiasm, and humor to his work at T2T!