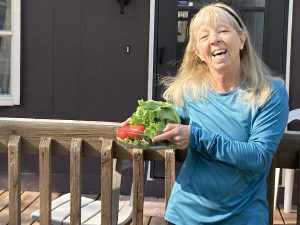 We're excited to introduce you to our new Local Gleaning Coordinator, Nora Garda. 
Nora grew up in Argentina and has many fond memories of her childhood there.  One of her earliest food memories is that of the smell of her grandmother's polenta, made with warm milk and cheese, wafting through the house when Nora returned from school. To reduce food waste and make the most of limited resources, Nora's family shopped at the market daily and prepared meals with fresh ingredients. These memories have impacted Nora and fueled a life-long appreciation for fresh foods and a desire to combat food waste.  
Nora completed her undergraduate degree, a BS in analytical chemistry and a BA in dance, in Argentina.  After getting her undergraduate degree Nora moved to the United States and earned a Masters in Analytical Chemistry from Lehigh University in Bethlehem, Pennsylvania. Eventually, she found her way to Iowa City where she recently retired after 28 years working as a Senior Chemist testing the efficacy and stability of new compounds for pharmaceutical companies.  However, if you recognize Nora, it's most likely not because of her career as a chemist but because of her community involvement stemming from her love of dance.  While she's classically trained in ballet, Nora's true passion is modern dance, and she has spearheaded numerous community projects related to dance.
Nora will be serving for 9 months as an AmeriCorps member with Table to Table's gleaning program. Nora is eager to lead harvests this summer so that she can provide people with fresh produce like she remembers having access to as a young girl.  As she says, "I strongly believe in not wasting food. Fresh produce is nutritious and yummy! Why let it go bad in the fields when so many can benefit from it?"
We love Nora's enthusiasm and energy and look forward to her applying her passion for fresh produce to our gleaning program.  On a personal note, I am hoping that she is willing to share grandma's polenta recipe!
Introduction written by Jared Long