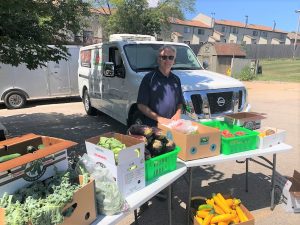 Bob Hoffman signed up to volunteer with us during a great time of need – March 2020, just as the pandemic began impacting our daily routine. Actually, it's because of the fact that Bob's part-time jobs were furloughed and other volunteer activities were suspended that he had the opportunity to volunteer with T2T.
Bob jumped right in and started volunteering on a regular basis, often volunteering twice a week. He did need to take a step back while he was teaching, but as soon as school was out he was back volunteering again and continues to volunteer one or two times each week, often filling in on volunteer shifts as the need arises.  
Bob has been up for anything we've thrown his way, and we sure do appreciate all of Bob's help and his positive attitude.
Bob's advice to new volunteers
How did you first get involved with Table to Table?
I heard through Domestic Violence Intervention Program (DVIP) that Table to Table was needing volunteers due to the pandemic, so I contacted T2T and started right away.
What's one of your favorite memories from your time volunteering with Table to Table?
After the Fourth of July last year I was subbing on a food rescue route during which we picked up over 2,000 pounds of donations, including thousands of sets of plastic utensils. My route partner for the day and I were wondering what we would do with so many utensils, but our first stop was a HACAP Head Start preschool program. We told them what we had, and the HACAP staff said, "We'll take them all. We got told yesterday that we could no longer use utensils run through our dishwasher." It all made me think that the stars were aligned for our work at T2T.
What is one thing you would tell new T2T volunteers when they're first starting out?
Be prepared for anything. You may pick up 180 pounds of food one day and feel as if you didn't accomplish much, but the next trip may be 1,600 pounds of food that the food pantries are thrilled to get that day to fill their empty shelves and fridges.
What do you wish other people knew about Table to Table and food insecurity?
Both the food donors and those who work at the recipient organizations are welcoming and friendly. The donors seem genuinely happy to have the food they won't be selling going to those in need, and the people at recipient partners want the best for their clients. It's rewarding to be the "middle man" for those groups.
Get to know Bob
What is one of your favorite food memories?
Eating fish soup in Newfoundland- fish fresh caught is nothing like we get here.
What are your hobbies?
Playing tuba and going to the theater
One thing that would surprise someone to learn about me is…
I played the Tinman in the Wizard of Oz… but not in the movie with Judy Garland
If you could travel anywhere in the world, where would you want to go?
Malta
What is your favorite flavor of ice cream (or favorite dessert)?
A Banana Split Polar Bear at Main Street Sweets in West Branch