By Nora Garda, T2T Gleaning Coordinator through AmeriCorps 4H Environmental Education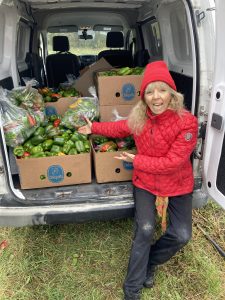 As the Gleaning Coordinator at Table to Table, I facilitated efforts to address the problems of food insecurity and food waste by working with local farmers who have excess produce, volunteers willing to harvest it, and recipient organizations serving our neighbors. Being able to rescue fresh produce that would otherwise go to waste and donate this produce to those in need has been extremely rewarding. I had multiple opportunities to chat with farmers and the recipients; farmers were very grateful for the service we provided while recipients were genuinely thankful to be getting locally-grown, fresh produce.
I must say that beyond the incredible volume of fresh, delicious and healthy food we collected and distributed, what really gave sense to my experience was this community I felt a part of; it made the entire process heartwarming.
I love to garden, I love vegetables and I love being outdoors. I also have a passion for people. These have been nine amazing months! What else can I ask for?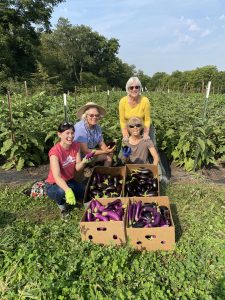 Things I learned:
It is wonderful to get the morning sunshine while working in the fields.

It is good to be plugged into the local food system.

It is valuable and exciting to learn how food is grown; the growers we worked with were so knowledgeable and passionate about growing the best quality food. I loved learning from them! It was so nice to develop a personal connection with so many of them.

I didn't know that urban agriculture was a "thing" in Johnson County. I had no idea there were so many farms in the city. So, learning about this small -but growing- movement of young people seeking out a more agricultural life was surprising and exciting. These hardworking, idealistic young farmers live around us. They invest hours and hours of their lives researching, connecting to the soil, experimenting with new crops, and growing quality produce. And what is even better, they don't hesitate to donate the excess to those less fortunate. It gives me hope in humanity. 

The gleaning volunteers were awesome!!! Service-oriented, community-involved and outdoor lovers! It was great to get to know new people from all age groups! I got to work with teenagers, families, college students, and retirees. We shared many big laughs and friendly conversations; the camaraderie was touching. There was always a real sense of teamwork. I feel lucky to have met so many great people!

It was a time to practice flexibility and adaptability.  Every glean was an adventure.

We gleaned when it was 90+ degrees and sunny. We gleaned in the rain. We gleaned in bitter cold days. We gleaned when we couldn't find the field, when we didn't bring enough boxes. We couldn't lift the boxes containing hundreds of pounds of watermelons! We found ourselves in wet fields and with every step we would sink into mud. And we could be called upon to glean at any time on any farm; we never knew exactly when we were going to be out there. But in the end, none of these situations stopped us or slowed us down. We had a can-do attitude and we made it happen every single time, through teamwork.
Our new partnership with Twin County Produce Auction (TCPA) added a new level of adventure. The huge success of collecting excess produce donated from farmers at the auction was a surprise for us at T2T and for those at TCPA! I greatly enjoyed getting to know their community in the process, ending with hugs at the end of the season.

And finally, T2T staff is the best!!!! Friendly, helpful, committed, thoughtful, knowledgeable and, above all, nice, nice people. After 30 years in the corporate/scientific world, my time as Gleaning Coordinator at T2T has been a breath of fresh air. I enjoyed every single minute here.
Working for a good cause always makes me feel good, and the shared sense of fellowship with volunteers, farmers and the T2T team made this an enlightening experience.