While Mike Saeugling helped stock food donations as a volunteer at CommUnity Food Bank, he regularly interacted with T2T volunteers when they made deliveries of rescued food. So after his wife, Marnie, retired, they decided rescuing food on a route together would be another great way for them to get some quality time volunteering together. We are so glad they did; we can confirm they make a great team!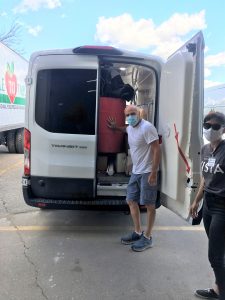 Now, Mike and Marnie go on a weekly food rescue route together, but they don't stop there.  They pick up additional shifts when we need extra help, and if Marnie isn't available, Mike will grab his friend Jim Humston to volunteer with him.  They've helped in multiple ways with our move to Pepperwood Plaza, whether by packing up boxes or painting walls.  And as you'll read below, they really enjoy distributing veggies at produce pop-up stands during the summer and fall. It's always fun when Mike and Marnie walk through the door to help out!
When asked about a favorite memory volunteering with T2T, Mike relayed the following story: 
Late summer of 2021, my wife and I worked several produce distribution pop-up sites around the Iowa City area for T2T. On one occasion we helped to distribute produce that had been shipped from California.  Along with California's finest celery, tomatoes, peppers, broccoli, and carrots, were eggplants. The plump purple ovoids, familiar to the corn-fed bosom of Iowa, were boxed with a strangely svelte cultivar of that fruit (that the skinny Californian was indeed an eggplant, I would come to learn later). These strangely shaped eggplants raised many an eyebrow and question from other curious Iowans.
One can imagine my repeated consternation and embarrassment, being the official fruit and vegetable purveyor at the pop-up, the assumed on-site expert as it were (my expertise based solely on my position on the opposite side of the table), as I responded lamely, "Uh, I don't know, never seen one before." 
Now the favorite part of the memory.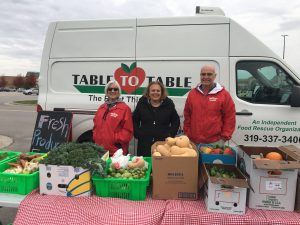 For various reasons, it seemed we couldn't give away an eggplant wrapped in a five-dollar bill. (I must admit, although an eclectic eater, I'd pass on that half-sawbuck too. Nobody likes everything.) But, thanks to our community's cultural diversity, the question of the oddly lean eggplant was answered. Unfortunately, my idiocy was reconfirmed by the woman who answered my query: "It's an EGGPLANT," she said, with the same exasperated look often seen on my wife. 
We also learned from an enthusiastic woman how to soak the snot out of okra. A valuable lesson I wish my mother had learned when I was a child. (But okra's not really a German thing, so credit my mother with at least expanding my horizons.) This woman added that in the country in which she was born, the vegetable-decongesting liquid is then repurposed to treat arthritis. Very cool.
We also shared recipes and anecdotes with numerous other folks from cultures and countries different from our own. Even cooler.
Get to know Marnie and Mike
Marnie
What's one of your favorite memories from your time volunteering with Table to Table?
I really enjoy working the pop-ups because it gives me an opportunity to meet the people in the community.
What is one thing you would tell new T2T volunteers when they're first starting out?
Table to Table is a great group of people to work with, and you will be part of helping your community.
What do you wish other people knew about Table to Table, food insecurity, and food waste?
Table to Table is a great, well-run organization. They do an amazing job of rescuing the tons of edible food that would otherwise be thrown in the trash and distributing it to the many wonderful organizations around town that serve our community.
What are your hobbies?
I love to do a variety of crafts (quilting, watercolors, knitting). I also love to cook.
One thing that would surprise someone to learn about me is…
I was an Explorer Scout in High School and went to NOLS ( National Outdoor Leadership School) when I was 16. Just not as outdoorsy as I got older.
If you could travel anywhere in the world, where would you want to go?
There are so many places I would like to visit. I am looking forward to the end of the pandemic and being able to safely travel. My favorite trip so far was to Croatia; it is a beautiful country.
What is your favorite flavor of ice cream (or favorite dessert)?
Anything chocolate is great, and cinnamon is a close second.
Mike
What are your hobbies?
Writing a novel. Reading. Our two dogs.
What is one of your favorite food memories?
Roasting whole hogs in the backyard. All-day fun.
One thing that would surprise someone to learn about me is…
I've been to El Salvador 15 times volunteering with Engineers Without Borders
If you could travel anywhere in the world, where would you want to go?
Ireland
What do you wish other people knew about Table to Table, food insecurity, and food waste?
Fight climate change however you can. Compost everything compostable. The City of Iowa City makes it easy.