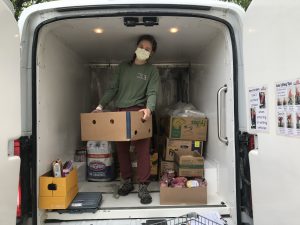 Table to Table has kept 22 million pounds of food from going to waste since April 1996. As Iowa's original food rescue organization, our unique food rescue model maximizes the amount of food we can rescue and gets it to people who can use it quickly. Route-based rescue allows us to ensure maximum amounts of food are used by our partners before it goes to waste. In fact, our partners report that most of the perishable food we collect each day is distributed to a family who can use it within six hours of our delivery.  But what do we mean when we say "route-based rescue"? 
Well, it looks like this!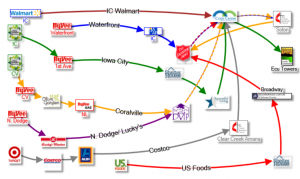 It's nearly as complicated to implement as it looks. The good news is, our program staff are experts and our partners are committed and that's what it takes to make this work.
A Single Route
To put it simply, this is what a single route looks like on any given day. We do this 8-10 times per day!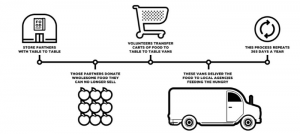 Each day, volunteers hop in a Table to Table van and drive to a few of our food donor partners. They load the van with produce, dairy products, meat, bread, pizzas, pre-made chicken wraps — you name it! They then drive to a few of our recipient partners, who select what foods they'll need that day from the T2T van.
The benefits of route-based rescue: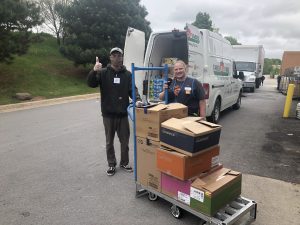 More food from donors.

 Volunteers follow a specific route at the same time each day to ensure that our donor partners know when they're coming and have food donations ready for them. They can easily determine whether the food they have will still be good by the time Table to Table will arrive. 

Recipients can plan for food deliveries

. Our recipient partners know when to expect their food deliveries for that day and have some consistency in what we'll deliver. When the Coralville Pantry knows we'll deliver 50 gallons of milk from the Kalona Creamery on Thursday afternoon, they know they won't have to buy any to meet the need of their pantry members.  

Maximum matching of donations to recipient partners

. T2T volunteers can become experts at their route. They serve as daily ambassadors to collect feedback about what donors will give and what recipients can take. Our program staff uses this information to make adjustments. 

T2T volunteers drop food off at IC Compassion, one of our food recipient partner organizations.

Rapid delivery of short-dated foods.

We don't bring food back to T2T for storage.

Volunteers are transporting food directly from the donor to the recipient using a temperature-controlled van in a matter of hours. The produce that's picked up this morning will be in a family's refrigerator by this afternoon. Each month on average we collect 100,000 pounds of fresh produce, meat, and dairy products. 

Valuable food free to our partners!

Many recipient agencies have no other source for these fresh foods, and certainly not another free source. Good food. Free food. It's a win-win. 
Thanks to our route-based model, we are able to rescue more than 2 million pounds of food annually in Johnson County, and our partners make sure it gets to those who need it. Without our route-based rescue, much more of this food would go to waste, never making it to the community and to family tables.