Emily Meister, Food Rescue Program Manager
Emily joined Table to Table in 2015 as a route volunteer. In short order, we invited her to join the staff. As Food Rescue Program Manager, Emily manages oversees all of the services that collect and distribute nearly 2.5 million pounds of food per year. the day-to-day operations of our food rescue efforts. You may not know it, but Emily has a few key superpowers that make her perfect for her role at T2T.
With her compassionate manner and infectious smile, she makes everyone feel comfortable and welcome. As a leader, she models food rescue ambassadorship and a can-do attitude that are hallmarks of Table to Table service.
Emily is also extremely organized. She is uniquely able to oversee the ever-changing logistics of several unique food rescue services. While supporting staff and AmeriCorps volunteers on these services, she juggles the schedules and needs of 150 partners each month.
She parlays this skill set into what her friends and family have termed "refrigerator magic". Never doubt the amount of stuff she can fit into a refrigerator. With Emily, the refrigerator magician on task, a refrigerator is never out of space. Most importantly, nothing in that refrigerator goes to waste!
Whether it's large-scale food rescue or the management of her family's refrigerator, food recovery is always at the forefront of her mind. Her favorite parts of her everyday work include interacting with our dedicated volunteers and helping people get better access to healthy, wholesome food. In fact, she describes this commitment as also one of her biggest challenges.
"It is hard to say no…when we don't have the capacity to take on a donation or a new recipient agencyI have a really hard time if I know there is food to be rescued and people to help, and we simply can't do it because we are already maxed out."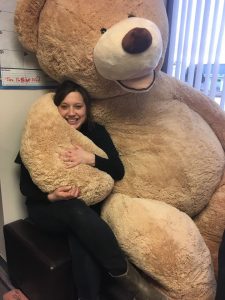 What inspires Emily the most is also what inspires us about her.
"Humanity – witnessing kindness in unexpected places, triumph against adversity".
Regardless of the day or what else she has going on, Emily's kindness to others is unmatched. She is always there working hard, stepping up when the organization needs her most.
Emily shares her commitment to ending food waste with her family, husband Nick, and sons Lucian and Julian. About trying new foods, Lucian happily declares, "even if I don't like it, I'm gonna eat it cuz I don't want to waste it". The boys also join her at T2T on occasion to help with food rescue. Together, they love to camp, travel, and help husband/dad Nick with his public murals.
Want to talk to Emily more about the food rescue operation at Table to Table?  Shoot her an email anytime or call 319-337-3400.