By February of 2020, Table to Table (T2T) was poised to report another year of tremendous community effort. We were on track to rescue more than 2 million pounds of food. We spent the fall of 2019 adding to our team and working on process improvements. Like all of you, we could not have envisioned how our year would end or that our new team and improved systems would be so thoroughly put to the test.
Our first and most significant challenge was losing 80% of our volunteers in March. Students left campus and uncertainty about safety led us to ask volunteers at high-risk for COVID complications to take a break. The City of Iowa City, Aero Rental, Bur Oak Land Trust, and more than 60 new and returning volunteers stepped up to continue the mission.

Amid major disruptions in the food system, we received calls to rescue 120,000 pounds of food from food transport drivers, hotels, farms, and food processors, all of which was above and beyond the 45,000 pounds we regularly rescue each week.
Letting any nutritious food go to waste at a time when some of our hunger relief partners were serving double and triple the number of people in need is simply unacceptable. For our neighbors enduring this health and financial crisis, T2T deliveries are the difference between families nourishing themselves with good protein, fresh fruits, and veggies or filling their bellies with food that is plentiful, cheap, and far less nutritious.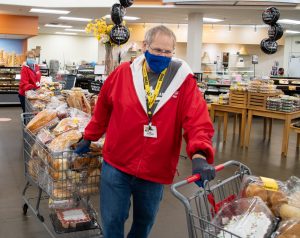 During this time, T2T delivered enough food for at least one nutritious meal per day for every food insecure family in Johnson County. We have more work to do to meet the full need.
Over 24 years, Table to Table has become known for our strong community relationships and our reliability. This year, we add something else to that list…resiliency. For T2T, resiliency is a culmination of resources only possible because of you. We have seen the community come together, like never before, to join us in ensuring that despite the pandemic, people are getting the nutrition they need.
Because of your unprecedented contributions of money and time, we were able to rise to the challenges presented by the pandemic and accomplish more than we ever imagined.
Please continue to stand with us—to lend us your hands, your time, and your resources—so our community members can continue to
rely on us to ensure that everybody has access to fresh, healthy food for themselves and their families.
In gratitude,
Nicki Ross
Executive Director