For the last six months, Ezra Schley has worked with Table to Table as our dedicated and helpful part-time Program Assistant, reliably launching our food rescue routes and leading operations each morning.
We're excited to announce Ezra is transitioning to the full-time role of Program Coordinator, a brand-new position at Table to Table. The knowledge of Table to Table that he's built up over the past six months, the positive relationships he's made with volunteers, donors and recipients, and the innovations he's brought to our processes have prepared him well for this new opportunity.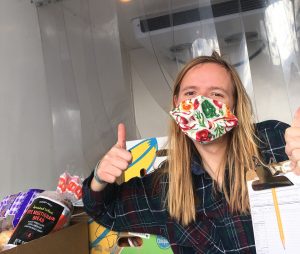 "This new position is helping us to have a greater capacity," Ezra says of his new role. "It will allow Emily [Meister, our Food Rescue Program Manager] to do more programmatic development – growing our programs and diversifying them." Ezra will be focusing on the day-to-day program logistics as well as organizing and analyzing food rescue data. "I will help develop, grow, and improve relationships with our partners. That's an opportunity there – to thank partners for everything, see what's working best, and see what we can do more of. We couldn't do this without them."
Ezra has a degree in Environmental Science and International Studies from Knox College in Galesburg, Illinois, where he was co-president of the Sustainability Club.  Since graduation, he has served in various capacities with environmental and food insecurity focused nonprofits,  including time as an AmeriCorps Sustainability Outreach Coordinator at the Tennessee Environmental Council, and as an intern with our food rescue neighbors to the west – Eat Greater Des Moines.
On a personal level, Ezra is excited to build upon his knowledge and enthusiasm for food rescue through his position. "I was interested in food rescue before I started at T2T, but over the past few months that interest has really grown, and now I'm passionate about it. Food rescue is such a complicated and interesting thing, and there's so many voices to incorporate. I'm really excited to continue."