Frank Lalor
Founder, Retired Special Projects & Requests Coordinator
Frank Lalor is one of 10 or 12 individuals who started meeting in October, 1995. Together, this group sought to alleviate hunger in our community while also reducing the environmental impact of food waste. Frank speaks of its inception as "merely a good idea whose time had come."  
In December 1994, Frank was watching CSPAN coverage on hunger in America and this burgeoning idea of "food rescue". Upon seeing testimony from the founder of Minneapolis food rescue efforts, he was inspired to see what could be done right here in Johnson County. So in 1996, the group of local change-makers founded Table to Table and rescued 55,000 pounds of food for the hungry. For 25 years, Frank has kept up our daily mission to build connections between abundance and hunger in Johnson County. In fact, he helped ensure that we rescued food 365 days nearly every year since 1996.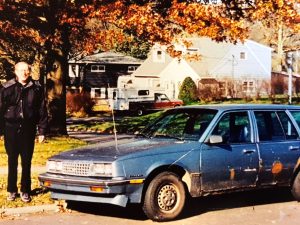 Frank has an inexhaustible passion for the Table to Table mission and provides support and encouragement to both staff and our many volunteers. After a particularly cold or sweltering shift of food rescuing, Frank has been there to greet you with a smile, a kind, encouraging word, and an inducement to "see you next time!" as he sends you on your way.
Frank and his wife Jeannette have 5 children. When not out rescuing food, Frank enjoys watching the Hawkeyes, cooking and spending time with his wife. 
Watch the testimony that inspired Frank and more than 20 years of food rescue!