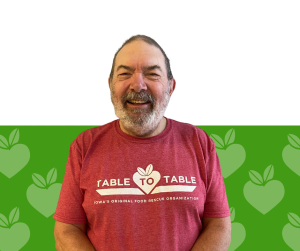 It is with heavy hearts that we honor the life and legacy of a remarkable individual, Kenn Bowen, who dedicated himself to serving his community as a Veteran for Peace, advocate for immigrant rights, and as a food rescue volunteer with Table to Table. Alongside his beloved wife, Pat, Kenn selflessly stepped forward during a time of great volunteer need, leaving an indelible mark on our organization and the lives of those he touched.
We're thinking of Kenn and Pat this week as we get our produce stand schedule started for the summer. Kenn & Pat volunteered at our Free Produce stands during the summer months, building community and distributing fresh produce with a smile and a kind word. This was in addition to faithfully covering their weekly route. Together, Kenn and Pat were an unstoppable duo, always willing to lend a helping hand wherever it was needed.
At a gathering of T2T volunteers last summer at Big Grove, AmeriCorps member Alyssa remembers her first encounter with Kenn, who would become a regular volunteer in the program she led: "From the moment we struck up a conversation, it was clear that Kenn had a knack for storytelling and 'dad' jokes. He effortlessly embodied the welcoming and inclusive nature of Table to Table, making everyone around him feel at ease."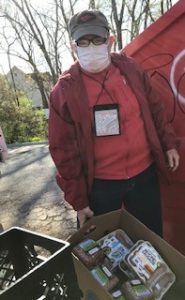 Each time he saw Kenn, T2T Volunteer Coordinator Jared Long would share his own weekly joke, and it became a lighthearted goal to elicit an eye roll from Kenn — a small victory that Jared cherished. Kenn's quick wit and dry humor reminded us not to take ourselves too seriously and added a touch of levity to our work. His clever quips, travel stories, and engaging discussions on current events made him an unforgettable presence.
Kenn never held back from sharing his thoughts and opinions, providing valuable insights and feedback. His honesty and engagement in our work were qualities that we greatly respected. We knew that when Kenn expressed his views, it came from a place of genuine care and a desire to make a difference. His candidness was appreciated in the environment of open dialogue and growth T2T works to cultivate.
We mourn the loss of a dear friend, a dedicated volunteer, and a man of integrity. But let us also celebrate the profound impact he had on our community. In honor of Kenn Bowen, let us carry his spirit forward. Let us continue the vital work he began, being a true friend, advocating and lifting the voices of our most vulnerable neighbors, and bringing comfort to those in need. May we approach our tasks with the same dedication, passion, and humor. His legacy of compassion and service lives on in our hearts and in the continued efforts of Table to Table.