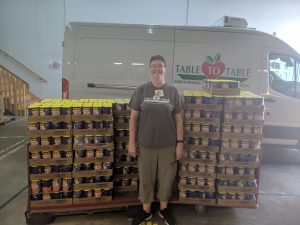 As we wrap up volunteer appreciation month, we can't think of a better way to express our appreciation for our fantastic volunteers than by sharing stories from their T2T volunteer shifts in April. These stories illustrate volunteers' resourcefulness, good humor, and enthusiasm to go above and beyond in the name of food rescue. We truly could not recover nearly 2.5 million pounds of food each year without them.
Just last weekend, volunteer Michelle Hills finished her regular food rescue route collecting a few hundred pounds of food. While she was out, another volunteer called in and couldn't do their route. Michelle noticed when she got back from her regular route that nobody had recorded any donations for that route and offered to do that one too! Without her, we may have lost the opportunity to deliver more produce, meat, and a variety of other foods to Coralville Community Pantry that morning.
————————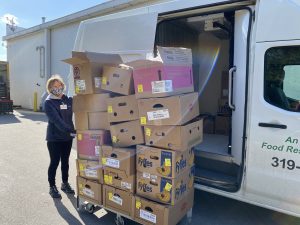 Mary Palmberg and Nancy Weber picked up a huge haul at Walmart & Costco a couple of weeks ago. Mary says, "No surprise that we barely — and only due to our years of practice — fit all that frozen bakery and (heavy) frozen meat into the cooler section [of the van]." On top of that, they received lots of whole pineapples.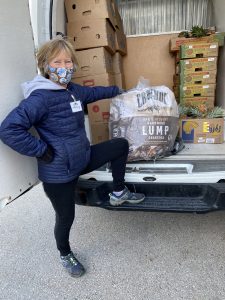 At the next stop, a couple of hundred pounds of charcoal briquettes! So, upon delivery, Mary made a deal: "We told Hải at the Coralville Pantry that she could have some of those nice pineapples if she took some charcoal briquettes…the number of pineapples dependent on the number of 20# bags of charcoal. She laughed — though she also took charcoal along with her pineapples." 
The good-natured flexibility of our partners to accept whatever crazy variety of food (and BBQ accouterments) that arrive on the truck is key to our success. "We were amazed that we'd passed off all the charcoal — and everything else — by the end of the route," Mary says.  
We're impressed by the packing and sorting skills our veteran volunteers have. It's an underrated talent that ensures no fruit is left behind!
————————–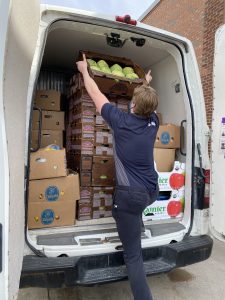 On another of what Mary calls an "exciting & rewarding day on the road", it was looking like a "light" food rescue day with two carts of grocery, meat, and bakery…until a very helpful and friendly store employee, Taveon, led the team back to a cooler with towers of cabbage and bananas. So many, it warranted a call back to base to see if T2T had the capacity. After getting the affirmative, they had to do their magic again to fit everything in the van. On their way out, Mary asked about a cart of miscellaneous items including toys and Easter baskets that weren't for sale anymore, so they took those too! Hải Huỳnh, Coralville Pantry Community Projects Coordinator, shared with the volunteers that those extra toys and gifts they asked for would be put in birthday bags for kids.  
Mary and Nancy made stops at North Liberty Pantry and HACAP Head Start and then an additional stop at Shelter House where they delivered a box of bananas and quite a few cabbages. The cook was excited about preparing the cabbages for dinner that evening.
T2T recipient partners and our volunteers are truly remarkable, and it's clear that the admiration is mutual. Mary and Nancy return from their route celebrating their interactions with Hải: "What a super (& strong!) woman she is!" and, "She's fantastic!"   
————————–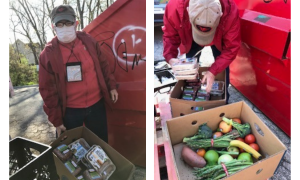 Kenn & Pat Bowen, volunteers since this past September, shared photos of their beautiful haul from New Pioneer Coop. Fresh veggies and healthy prepared foods were a welcome and delightful delivery that day!
——————–
And finally, volunteer Charlotte Fairlie passed along an impactful message she received from a community member as she was picking up food at a stop on her route just a few days ago:
"A woman rolled down her window as she was pulling out of her parking space and said,

'I just want to thank all of you for everything you are doing and all the work you put in.  I have been in the position of having to use your services, and I want you to know how valuable it is and how much it's appreciated.'"
As Charlotte says, "Her message is for all of us."