This article appears in Table to Table's 2023 Impact Report.
T2T volunteers truly embody a passion for recovering food and delivering it to our neighbors. Along the way, they develop strong relationships with those who donate and receive the rescued food.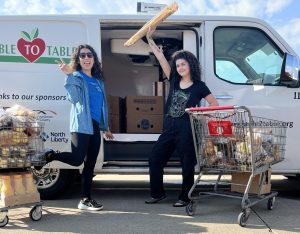 Two best pals who volunteer together on a weekly Saturday morning food rescue route, Cheyenne and Jasmine, chat with produce department staff when they pick up donations. They know each other by name and the employees seek this volunteer pair out each Saturday to make sure they don't miss any food set aside for donation.
Have we mentioned Mary Palmberg? Well, we're going to again. Mary is T2T's longest-serving volunteer, now in her 25th year. Throughout her roles at T2T since 1998, she's been an ambassador to our community, using every opportunity to promote and garner support for our mission. Mary builds great relationships with food donors, increasing their donations and commitment to our mission. She makes T2T deliveries memorable for recipient agencies and their volunteers, expressing sincere and heartfelt gratitude for their partnership and work.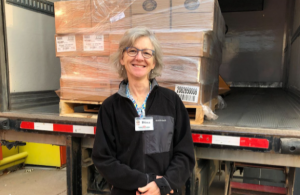 Dina Janzen has driven T2T's straight truck to deliver pallets of food for years. "I absolutely love connecting with the people inside the back doors of warehouses, stores, and food pantries every week," she says. "I find it fascinating to observe how the complex systems that exist to rescue all this food are constantly adapting. My part of this system is simple, but my role feels essential." 
T2T volunteers enjoy forging global connections, too. T2T was fortunate to host Fellows of the Mandela Washington Fellowship for Young African Leaders through the University of Iowa's International Institute for Business for two days this year. Fellows recovered food on routes and gleans alongside T2T volunteers and discussed the innovative work they're doing in their own communities in countries across Africa – a great learning experience for all involved. 
T2T volunteers are essential to retail food rescue, fleet prep, driving our straight truck, office work and data, gleans at farms and orchards, community outreach, free produce stands, and more! Learn how to get involved.