This article appears in Table to Table's 2023 Impact Report.
Table to Table distributed 40,000+ pounds of excess produce harvested from generous local farms, donated directly by farmers and gardeners in our community, and recovered from farmers markets and auctions. We distributed 12,500 pounds of that at 36 free produce stands. We work with the public and 11 key community partners to identify neighborhoods where access to affordable fresh produce is more difficult. Read more about our produce stands and the partners who helped make them happen.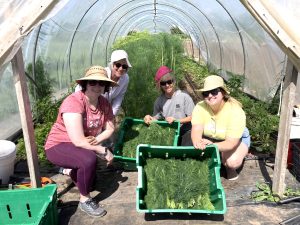 Partner Highlight: Since 2021, Echollective Farm has donated 30,000+ pounds of produce to local nonprofits.
"We truly could not have done this without the support of Table to Table. Having Table to Table's support in gleaning at our farm as well as giving us one accessible, easy place to donate produce is truly invaluable… When organizations like Table to Table work to give everyone in the community access to freshly grown, Iowa produce – including those who are food insecure – we all benefit!" – Molly Schintler, Echollective Farm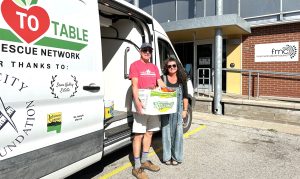 New T2T partner Free Medical Clinic (FMC) serves marginalized neighbors, many of whom are unable to access consistent healthcare for chronic diseases. Now, through T2T deliveries, FMC is offering fresh, nutrient-dense foods recommended to clients by clinic doctors for improved health.