This letter appears in Table to Table's 2023 Impact Report.
I've often heard the work of Table to Table described as a "simple" idea. We like that redistributing surplus food that would otherwise go uneaten is a no-nonsense idea. However, this only works smoothly if it's on a solid foundation of relationships, collaboration, and connection: essential components for a healthy food system and healthy individuals. Essential… but it turns out: not simple. There isn't really anything simple about leveraging the strengths of organizations and individuals throughout the community to make food accessible to thousands of people each year. 
Here are some of the ways we've done that this year: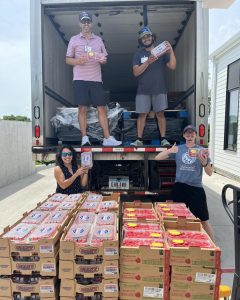 We nurtured partnerships to prioritize equity and access

by redistributing food in a way that promotes fairness and addresses the specific needs of different communities.

Doing this means not doing what's easiest but finding the way to do what's most just.

We redistributed food purchased by local food hub

Field to Family

from marginalized local farmers through the

Iowa Valley Resource Conservation & Development

-led Local Food Purchasing Assistance Program (LFPA).

We continued our partnership with Grow: Johnson County to deliver over 50,000 pounds of produce grown in their educational farm program, many of which are culturally-specific vegetables grown at the request of our neighbors who will nutritionally and emotionally benefit from these foods that make them feel at home.
Through collaboration

with

Feeding America Food Bank HACAP Food Reservoir

,

we better understand the regional food insecurity landscape

and work together to ensure

adequate resource distribution in Eastern Iowa

. Examples include, redistributing thousands of pounds of ripe strawberries from HACAP, and HACAP offering 10,000 pounds of protein recovered by T2T to partners across 7 counties.

Strengthening our anti-hunger network

increases our adaptability and allowed us to respond to more than a dozen large volume, time sensitive food recovery opportunities this year.

With little notice, organizations across Johnson County answered their doors to accept thousands of pounds of unexpected food deliveries

ranging from prime sirloin (yes, really: it was going to be dumped unless we stepped in) to milk, eggs, high-protein breakfast bowls, and even gallons of muffin batter.
It is through our network of distribution partnerships that we are collectively building a more just and less wasteful food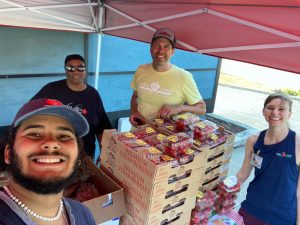 system. Together, we show love for our neighbors through food, recognizing that food is a building block of community and connection. We want a community where nutritious, desirable, and culturally-meaningful food is accessible to all. We hope you will join us in making this vision a reality.
Nicki Ross
Executive Director
In addition to our partnerships, we couldn't have accomplished what we did in 2023 without our dedicated Board of Directors and staff and AmeriCorps team.
FY23 Board of Directors
David Frisvold,

Chair 

Kaily Hoard,

Vice-Chair

Brad Berentson,

Treasurer 

Andrew Coghill-Behrends,

Secretary 

Laura Burkamper
Amelia DeRynck
Christy Fehlberg
Todd Gibson
Molly Johnson
Mary Kelley
Tasha Lard
Patty Meier
Rajni Vijh
Leslie Yoder
FY23 Staff Team
Nicki Ross, Executive Director
Allison Gnade, Programs & Services Manager
Ezra Schley, Program Coordinator (through July 2022); Chaim Jensen, Logistics & Relationships Coordinator (started Sept. 2022)
Jared Long, Volunteer Coordinator
Elizabeth Wagner, Operations Coordinator
Anne Langebartels, Communications & Development Coordinator
Steve Noack, Program Assistant (through Oct. 2022); Gina Hudson, Dispatcher/Driver (started Dec. 2022)
Celia Eckermann, Bookkeeper and Administrative Assistant
FY23 AmeriCorps Service Members
Alex Courtney, Data Systems Coordinator
Ngonyo Mungara, Food Rescue Specialist
Lillian Poulsen, Food Access and Equity Training Specialist
2022 Local Produce Recovery AmeriCorps
Nora Garda
Alyssa Schaeffer
Molly Suter
2023 Local Produce Recovery AmeriCorps
Marquis Heard
Lisa Truong