The impact of our grant from Frontier Co-op to purchase a new refrigerated vehicle and one year lease on our refrigerated "big truck" can be best illustrated by the "Great Yogurt Boon of 2017". On a Wednesday in mid-September we received a call that a local food warehouse had 8 pallets, nearly 9000 pounds of yogurt to donate. Nine thousand pounds of yogurt and the expiration was more than a month away! What a windfall!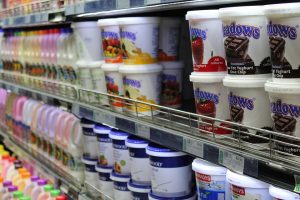 In fact, dairy is one of the most needed items for agencies serving the hungry in our community.
However, 4 tons of dairy that needs to be refrigerated presents its own challenges. Since no single partner agency can store or redistribute food in those quantities, we needed a storage and distribution plan. With our two new vehicles, we were able to accommodate this challenge with little difficulty. Our new 22ft refrigerated had the capacity to transport and keep cool all 8 pallets. We were able to use the truck as a temporary warehouse and work over the course of several hours to distribute this high value food to more than 15 local programs.
Even so, at the end of the day, we still had 800 pounds of yogurt remaining, which was not likely to fit in the 7 household sized refrigerators we have back at Table to Table. So, we transferred the remaining yogurt to the new transit van we purchased with the help of Frontier Co-op. We can actually plug this new vehicle's refrigeration system into a wall outlet, thereby expanding our refrigerated warehouse space to 350 cubic feet. By storing the yogurt for the next 36 hours, we were able to find additional recipients in need of dairy. Local after school programs received more than 50 cases to serve as snacks and small pantries with minimal storage capacity received a second delivery after distributing the first load of yogurt early in the week.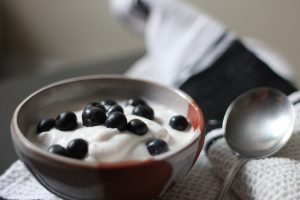 These organizations served around 3,000 individuals with this single delivery. Without these new vehicles, this nutritious and high need food would have either gone to waste or been diverted away from those in need right here in our community. Thank you to Frontier for helping keep good food from going to waste and feeding 19,500 hungry people.